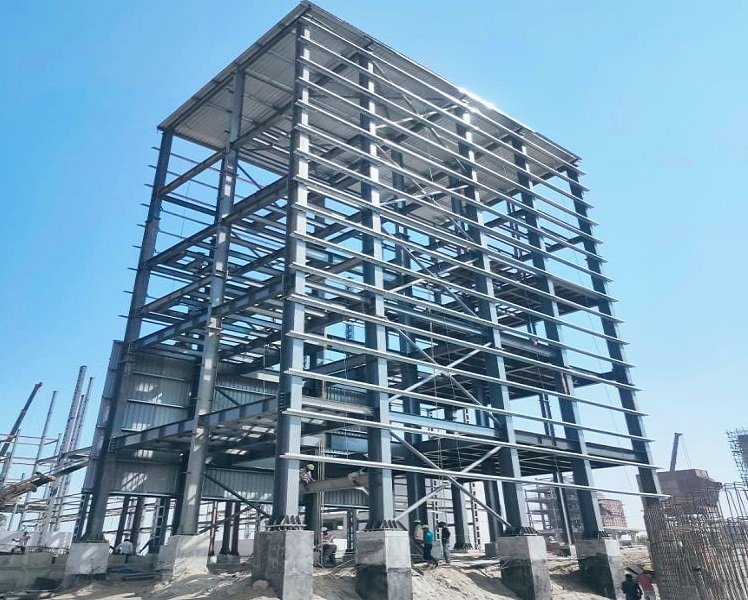 PEB Multi Storey Building:
Pre-engineered multi-story buildings are buildings that are constructed using prefabricated components that are manufactured in a factory and assembled on site. These buildings are typically multi-storied, with two or more floors, and can be used for a variety of purposes such as offices, apartments, hotels, and more. PEB buildings can also be designed to be multi-storey, with additional floors added as needed. These buildings are typically more cost-effective and energy-efficient than traditional buildings, as they use a standardized design and prefabricated components. One of the main advantages of pre-engineered multi-story buildings is that they can be designed and constructed quickly, as the prefabricated components are already manufactured and just need to be assembled on site. This can significantly reduce the construction time compared to traditional buildings, which are built from scratch on site. Overall, pre-engineered multi-story buildings are a popular choice for businesses and industries that need a fast, cost-effective, and flexible solution for their building needs.
High-Quality PEB Multi-Storey Buildings | Blueladder PEB Manufacturing
At Blueladder PEB Manufacturing, we take pride in being a leading provider of Pre-Engineered Building (PEB) solutions, offering top-notch design, engineering, and manufacturing services. Our expertise extends to crafting efficient and durable PEB multi-storey buildings that stand as a testament to innovation and quality.
Unveiling the Advantages of PEB Multi-Storey Buildings:
Speedy Construction: Time is of the essence, and with our PEB technology, your multi-storey building can be erected in record time. The modular components are pre-fabricated off-site, ensuring quicker assembly and reduced on-site disruptions.
Flexible Design: Blueladder PEB Manufacturing empowers you with endless design possibilities. Whether it's commercial complexes, office spaces, residential apartments, or mixed-use developments, our PEB multi-storey buildings can be customized to meet your unique requirements.
Structural Integrity: Safety is paramount, and our PEB multi-storey buildings are engineered to withstand the test of time. The advanced design ensures optimal load distribution, seismic resistance, and durability, ensuring your investment remains solid for years to come.
Space Utilization: Maximizing available space is crucial, and our PEB multi-storey buildings excel in this aspect. Intelligent design and layout planning allow for efficient space utilization, creating functional and aesthetically pleasing interiors.
Customization Options: Blueladder PEB Manufacturing believes in turning your visions into reality. Our team works closely with you to understand your needs and preferences, ensuring every detail of your PEB multi-storey building is tailored to perfection.
Why Choose Blueladder PEB Manufacturing ?
Expertise: With years of industry experience, we possess a deep understanding of PEB technology and its applications, making us your reliable partner for multi-storey building solutions.
Quality Assurance: Our commitment to excellence drives us to adhere to stringent quality control measures throughout the manufacturing process, ensuring you receive a PEB multi-storey building that exceeds expectations.
Timely Delivery: We value your time and aim to deliver projects within the stipulated timeline, backed by our efficient manufacturing processes and dedicated project management.
Client-Centric Approach: Your satisfaction is at the heart of everything we do. We foster open communication and collaboration, ensuring that your input is integrated at every stage of the project.
Industry Standards: Blueladder PEB Manufacturing operates in accordance with international building codes and standards, guaranteeing that your PEB multi-storey building complies with safety and regulatory requirements.
Blueladder PEB Manufacturing stands as your ultimate partner for crafting exceptional PEB multi-storey buildings. Our commitment to innovation, quality, and sustainability ensures that your project will not only meet but exceed your expectations. 
Contact us today to embark on a journey towards an efficient, and aesthetically appealing PEB multi-storey building solution.
Let's Design your Customized PEB Plan?