Did you know?
"Composite columns also perform well in fire conditions
According to Eurocode- 4 a slab thickness of 110mm 
will provide a fire resistance of 90 minutes."
Your business is growing, you need a new place. You are deciding on whether to extend your current facility or go for a whole new building, either ways you really need to get acquainted to trending construction materials and techniques, so that you are steps ahead in planning and because it forms a substantial part capital expenditure. One of such techniques is composite construction.
Concrete and steel are known for their compression and tension respectively. What if you can enjoy the best of both worlds. Yes, that is totally possible. Pre-engineered building supports combinations which helps you achieve higher strength with light weight design. This reduction in weight can be up to 30 % and results in reducing loads on the foundation.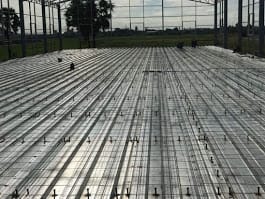 Break It Down
How is it done?
Composite Beams    Composite action is achieved by trough decks welded on steel beams with shear studs. The profiled metal sheet generally called as deck sheet forms
the basis of composite construction. It is sandwiched between the base of the stud and top flange; welding process joins all the three together.
Composite Slab     Profiled metal steel decking conforming to ASTM-A653 (2008) and IS 1079 (1994) is used in composite slabs with galvanizing coating of average thickness 0.0254mm on each face of the deck.
Composite Columns   can be of two types- Hollow steel columns filled with concrete inside or steel columns encased with concrete. The first one doesn't require any formwork and material is used very efficiently.
How does it work?
The metal deck sheet in structures acts as a permanent shuttering capable of sustaining wet concrete weight, reinforcement and construction loads during construction phase. The benefit of joining steel beam and RCC slab is that it increases the resistance and stiffness of the beam. Similarly force in the slab is transferred via embossments and type of decking profile and geometry. Concrete infill increases the compression resistance and prevents column of any local buckling. They offer high resistance with smaller cross section area, thereby maximizing floor space area.
How does it help you?
Strength | Economy | Cost Efficiency | Economical
1. The metal decking acts as external (tensile) reinforcement at composite stage. It acts as a permanent formwork during construction stage and also acts a working platform.
2. Decking also supports beams transversely when tied thus increasing resistance to lateral torsional buckling.
3. Decking is lifted to the floor in bundles and distributed across floor area very easily by hand, thus reducing the time and any heavy crane operation when compared to pre-stressed concrete beam & slab.
4. The absence of props makes it possible to cast more than one slab at a time. It favors fast and easy construction and proves to be more economical compared to steel only or
concrete only structures.
5. The major benefits of composite construction are reduced self-weight, requiring less supporting structure. The resistance to corrosion and rot is more when compared
to steel only structures. 
Blueladder, adding mezzanines to your multi-level business plans.
#blueladderepc #robusteel #compositeconstruction #godown #mezzanine #warehouse #coldstorage #sportsstadium #logisticspark #peb #preengineeredbuilding
Contact Us: +91 7666900370, [email protected]